Hong Kong / Macau Shopping Guide
Moderndesign100 provides convenient and fast payment, transportation, and after-sales services for Hong Kong/Macau users. Please feel at ease when purchasing furniture.
Regarding payment:
We have an account at HSBC in Hong Kong, where you can transfer Hong Kong dollars to this account. Additionally, you can make payments using WeChat Pay or Alipay in Chinese yuan.
Regarding delivery time:
Our products generally require custom production, with a production cycle of 20-35 days. For detailed information, please contact our customer service staff.
Under normal circumstances, for Hong Kong, we will ship the goods on the same day, and they can be delivered the next day. For Macau, it may take 2-3 days. Please ensure that someone is available to receive the goods at home on the day of delivery. Please confirm the delivery time with your sales representative before shipment.
Regarding shipping fees:
For Hong Kong and Macau, we provide customs declaration, transportation to the building entrance, delivery to upper floors (if there is an elevator), unpacking, installation, and disposal of packaging materials and old furniture. You can choose various services that suit you and pay for them accordingly. Detailed fees are shown in the attached image: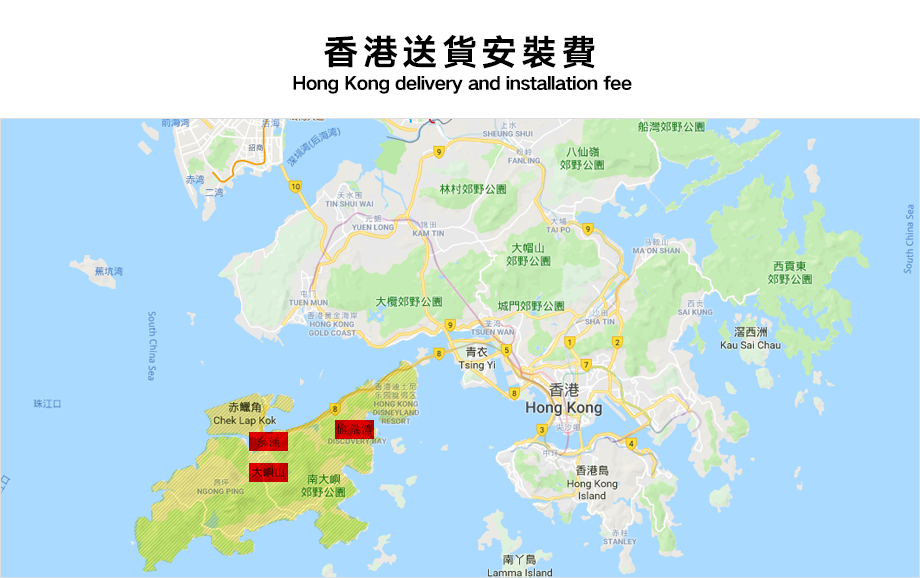 Shipping Fee (Delivery to Door):
The first cubic meter is HK$500, and starting from the second cubic meter, an additional HK$250 is charged per cubic meter. If it is less than one cubic meter, it will be calculated as one cubic meter. For example, 1 cubic meter is charged HK$500, 2 cubic meters are charged HK$750, 3 cubic meters are charged HK$1000, and so on.
Remote Area Surcharge: For areas such as Tsuen Wan, Discovery Bay, and Tai Shui Hang, an additional remote area surcharge of HK$500 will be added to the shipping fee. Delivery services may not be available for certain outlying islands, please consult with customer service in advance.
The above quotation only includes delivery to the door and does not include services such as unpacking, installation, and disposal of packaging waste. For more details, please consult with customer service.
Regarding Staircase Handling Fee: If there is no elevator at the delivery location (or if there is an elevator but some steps still need to be carried), and if it is necessary to use the staircase for handling the goods (please ensure that there is enough space on the staircase to move the furniture):
Upstairs Fee: HK$75/person/box/. For example, one box of chairs can be carried upstairs by one person, the upstairs fee is HK$75. If it needs to be carried up two floors, it would be HK$150, and so on. If it is one box of a large sofa that requires two people to carry, the upstairs fee would be HK$150, and HK$300 for carrying it up two floors, and so on.
Installation Fee:
Chairs and tables: HK$65/piece, Lighting fixtures: HK$125/piece, Wooden dining table: HK$200/piece, Marble dining table: HK$350/piece.
Waste Disposal Fee:
Due to strict waste disposal regulations in Hong Kong, it is necessary to transport the waste to designated government locations. Therefore, a waste disposal fee will be charged based on the quotation provided by customer service.
Note: For fees in the Macau region, please contact us for specific details.